Zhangjiajie National Forest Park
2016-05-06 12:17:02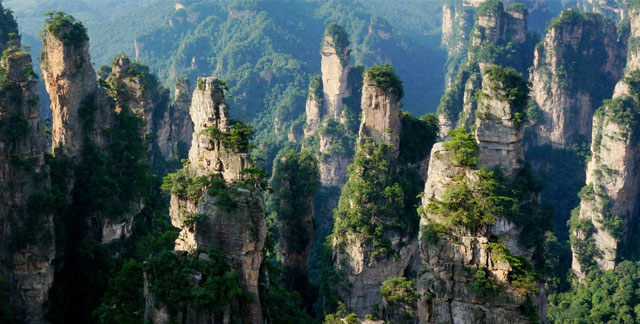 Included in the spectacular Wulingyuan Scenic Area near the city of Zhangjiajie (Wikipedia Article) in China, the Zhangjiajie National Forest Park was the first area to be protected as a national park within the country. Famed for its sandstone karst pillars stretching skywards which are draped in sub-tropical rainforest, the park was initially founded as a state-run tree farm in 1958 before being officially protected in 1982. Extending across around 50 square miles, Zhangjiajie National Forest Park was also recognized as part of the Wulingyuan UNESCO World Heritage Site in 1992 and is a great place to go trekking away from the bustle of China's cities.
Geology
The park's famous sandstone pillars are the result of thousands of years of erosion by water draining through crevices. This water becomes acidic when it comes in contact with the carbon dioxide in the surrounding soil and atmosphere. Over time, this water drains through the fractures in the rock, gradually dissolving it away into the unique and iconic karst landscape seen today in Zhangjiajie. This process is further assisted by the expansion of ice within the crevices over Zhiangjiajie's chilly winter months, creating ever-wider spaces between the karst pillars.
One of the park's most famous sandstone pillars is the 1,080-meter tall Southern Sky Column. It was recently renamed 'Avatar Hallelujah Mountain' as it is believed that it inspired the floating Hallelujah Mountains in the movie, Avatar. Tianzi Mountain, also known as 'Heaven Son Peak', is the park's highest mountain and from its peak you get a fantastic view over the clouds which hover below.